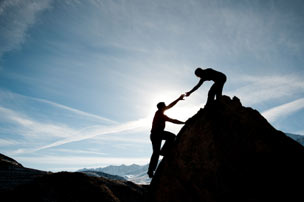 Damage Prevention Technology
Our damage prevention experience started back in 1991, working for state One Call Centers, mapping 'call before you dig' requests.
At that time, all dig tickets were mapped manually using paper maps or electronically using a grid based mapping system. Both of these approaches resulted in inefficient over-notifications.
We were tasked with increasing the speed and accuracy of locating buried facilities around the dig site. We developed a new technology "Poly-on-Poly" polygon the dig area and polygon the affected facilities, hence the name. Poly-on Poly has become the standard for all call before you dig centers across the country ever since.
This technology is published in the book "OBJECTS IN ACTION" chapter 15 author Paul Harmon & David Taylor. After submitting our technology, we received special recognition from the Object Management Group, being voted one of the TOP TWENTY SOFTWARE DEVELOPMENT GROUPS FOR 1992
Objects In Action by P. Harmon & D. Taylor on Amazon
Development and Deployment
Since then, we were contacted by Asplundh to develop a ticket management system for their Central Locating Service company (CLS). We were tasked with providing a real-time, wireless mobile application that could handle several thousand users simultaneously. This application became known as TransLore and is currently deployed in over 40 states processing more than 25,000 dig requests each business day.
Shortly thereafter Dominion Resources contacted us with a specific need to monitor high pressure/high volume transmission lines, found near High Consequence Areas such as schools and churches. This technology has been deployed and provides full compliance with 49 CFR 192 and 195.
Hearing of our success with other utility companies, we were asked to solve an enormous problem experienced by the largest publicly traded utility companies: "TOO MANY COSTLY DAMAGES." We met with their regional and state Damage Prevention Mangers and worked together to develop a new application "ADVANCED DAMAGE PREVENTION" (ADP).
ADP has since been deployed in over 11 states and has resulted in a savings of over $10,000,000.00 since 2008. In short we concluded that Damage Prevention managers were always REACTIVE - running to one damage after another. ADP gave them the ability to be PROACTIVE. Now they have the tools to stay ahead of costly facility damages.
We have and will continue to develop unique industry-specific applications. These are just a few of the stories we like to tell, trust us there are many more. Please call our offices for specific references and to discuss how we can help you!
See how our support makes your busy Damage Prevention job easier.